Music Schedule April-May 2022
Monday Thru Saturday from 1:30 pm to 4:40 pm "la silla Turka"
Tuesday Thru Sunday from 8:30 pm to 12:30 am "Mezquila"
Monday 8:30 pm to 12:30 am "Ajinomoto"
Cabo Wabo Cantina Open from 9am to 1am
Cabo Wabo is open from 9 am to 2 am every day
2×1 Happy Hour 9am to 4pm in selected Items
live band from 8:30 pm – 12:30 am
Store is open Monday Thru Sunday from 9am to Midnight
First come first serve basis, thanks.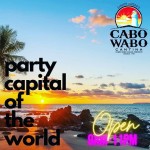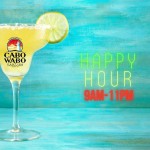 BIRTHDAY BASH DINNER SHOW TICKETS SALES
As in years past, there will be a limited number of Dinner Show Tickets available directly in Cabo San Lucas, Mexico at the Cabo Wabo Cantina. Tickets will be sold on a first come, first serve basis in Cabo.
Night 1 (Oct. 9th) Tickets will be made available at the cantina club area at 12pm noon on Tuesday, October 8th.
Night 2 & 3 (Oct. 11th & 13th) Tickets will be made available at the cantina club area at 12pm noon on Thursday, October 10th.
Dinner Show Tickets will cost $120 per person and include a welcome drink, dinner, tax, tip & admission into the show. It does not include any additional drinks.  Dinner Reservations DO NOT GUARANTEE a table for the show.  The show will be standing room only.  There are no tables or chairs.  Maximum of 2 seats per person present for the purchase.  Please have valid photo ID ready.
Canelo vs Jacobs, Saturday May 4th.
Canelo Saul Alvarez's WBA and WBC middleweight titles are on the line against Daniel Jacobs' IBF championsip. That's right…it's a title unification fight
2×1 Coronas & Pacifico beer during the Fights, More than 20 TV's, Air Conditioned, Premium sound, No Cover charge, First come first serve basis.
Birthday Bash 2019 Dates
It's that time of year again! Sammy's Birthday Bash is back in 2019 and like last year, will be three nights: October 9th, 11th, & 13th.
Tickets will be handled in the usual fashion with a registration process followed by a random drawing. This will happen after the Circle tour wraps in June and we will let you know more details as the date draws near!
Event Dates: Oct 9th, 11th, 13th, 2019
Event Address: Cabo Wabo Cantina, Calle Vicente Guerrero S/N, Centro, 23450 Cabo San Lucas, B.C.S., Mexico
Questions? Contact us at: [email protected]
SEE YOU IN CABO!