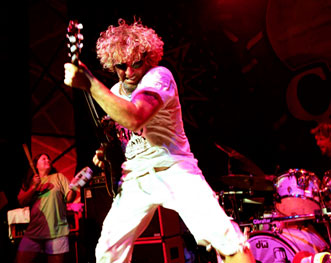 We Love Our Live Music.
With live music and entertainment daily the stage at the Cantina has hosted top celebrities and musicians from all over the world. The restaurant serves outstanding food and is open for lunch and dinner 7 days a week. From seafood to Mexican food, from DJ to live band, from Cerveza to Tequila, from bar to rooftop, there are plenty of reasons for you to make the Cantina your stop in Cabo.
Where The Land Ends And The Party Begins
Since opening in 1990 the Cantina has long been one of the topmost places to eat and party in Mexico and the world. Featured on MTV, VH1, E-Channel, Travel Channel, and in many dreams of partiers and would-be partiers, the Cantina holds distinguished status among the world's greatest fiesta-goers. Come experience the Cantina and you will quickly see why this spot gave birth to the Cabo Wabo way of life!