CABO WABO TO THROW UNFORGETTABLE
CINCO DE MAYO FIESTA
Forget the siesta and hit the fiesta! Cabo Wabo Cantina will host a fired-up Cinco de Mayo fiesta on Tuesday, May 5.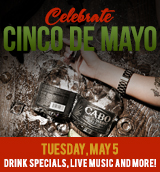 Sammy Hagar's rockin' cantina will celebrate Cinco de Mayo on the Strip-side patio with drink specials, live music and more. Drink specials will include the Cabo flight, three sample shots of different Cabo Wabo tequilas, including blanco, reposado and anejo, priced at $21; a variety of ice-cold cervezas and signature margaritas including the mango picante margarita, a refreshing blend of jalapeño, mango, Cabo Wabo blanco tequila, triple sec and sweet and sour, priced at $14.
Cabo Wabo will also serve their signature Cabo San Lucas-inspired dishes including the nacho platter, crafted with a house cheese blend, refried beans, jalapeño, Cotija cheese, pico de gallo, sour cream and guacamole, priced at $14.95; and the cilantro jalapeño chicken, grilled chicken breast prepared with jalapeño, onion, cilantro, pepper-jack cheese and jalapeño ranch, served over Mexican squash, roasted corn, tomato and poblano pepper, priced at $17.95.