Toby Keith, John Mayer & Sammy Hagar Rocked the Cabo Wabo Last Night! Another Awesome Night at the Cantina!!
NYE AT CABO WABO INFORMATION (DINNERS, TABLES & GA TICKETS SOLD OUT)
NYE at the Cabo Wabo Cantina featuring Live Music by House Band "Cabo Uno"!
Two seatings – 8:00pm (SOLD OUT) and 10:00pm!
includes table at the restaurant, dinner, welcome Waborita & reserved table at club area! General admission fee $25.00 US
For Table Reservations, contact Carlos Ortega [email protected]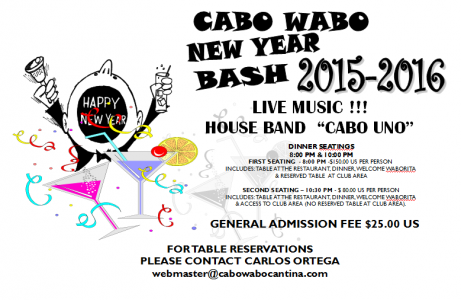 BIRTHDAY BASH 2015 REGISTRATION DATES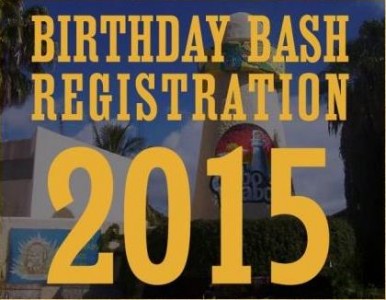 Registration dates are announced! Registration will run from July 20 through July 27. You may register at anytime during this period. Please remember there is only one registration per household per show.
The random drawing will be completed shortly after the registration period ends and the tickets will be processed. After that we will complete any returns that are needed and move forward with the 2nd chance drawing!
Check back here on July 20th for the link to the registration page.
Can't wait to see you all in Cabo!!
Cabo Wabo Cantina Nominated on the 100 Must by the Mexican Tourism Board
We are proud to announce that Cabo Wabo Cantina has been Nominated by the Mexican Tourism Board as one of the 100 Must See Places on the Entertainment Branch.
THE 100 MUSTS IN MEXICO IS THE EVENT THAT GENERATES THE LIST OF THE BEST EXPERIENCES TO LIVE IN OUR COUNTRY, IS DESIGNED TO GENERATE COMPETITIVENESS IN THE TOURISM SECTOR AND GRANT RECOGNITION TO PEOPLE, PLACES AND MOMENTS THAT STAND OUT FOR THEIR WORK AND CONTENT.
You will be able to Vote in the Following link:
http://100.imperdiblesmexico.discoveryquestmexico.com.mx/nominados.php
Sammy Hagar Kicks Off Newest Season of "Live From Daryl's House"
Come join Sammy Hagar as he kicks off the newest season of "Live From Daryl's House" this THURSDAY, April 30th! You can catch the show at it's new time at 9/8c on Palladia TV!
Daryl Hall started Live From Daryl's House, the free monthly web show in late 2007, after having the idea of "playing with my friends and putting it up on the Internet," and the show has since garnered acclaim from Rolling Stone, SPIN, Daily Variety, CNN, BBC, Yahoo! Music and influential blogger Bob Lefsetz, who cited Live From Daryl's House as a perfect example of a veteran artist reinventing himself in the digital age by collaborating with both established colleagues and newer performers.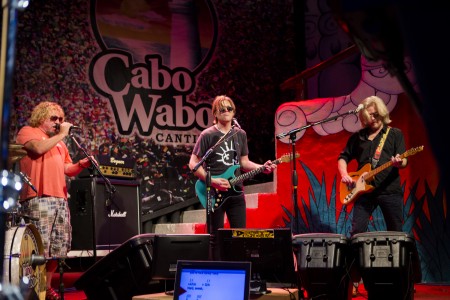 SAMMY HAGAR ANNOUNCES FREE NEW YEARS EVE CONCERT AT THE CABO WABO IN LOS CABOS, MEXICO
Rock & Roll Hall of Famer Sammy Hagar today announced plans to throw a free concert at his legendary Cabo Wabo Cantina in Los Cabos, Mexico on New Years Eve. Hagar, accompanied by Cabo Uno, the Cantina's house band, will ring in the New Year in the town which has much to celebrate since recovering from the aftereffects of Hurricane Odile.
"Cabo is back, baby – and that's the best reason in the world to celebrate and support the community." said Hagar
In place of tickets, the concert will be a throwback to the early days of the famed club – with admission being free of charge and reservations taken on a first come, first serve basis via email at [email protected]. Fans can also make dinner reservations at the Cantina and stay for the show. In place of purchasing tickets, everyone is encouraged to contribute to the community via a voluntary donation box that will be placed at the main Cantina entrance. Proceeds will be donated to "Los Cabos Children's Foundation Odile Relief Fund".
Hagar and the Cabo Wabo Cantina are working closely with Ruben Reachi, Secretary of Tourism for Baja California and the Cabo Bureau of Tourism to organize a music festival in early 2015.  More information will be revealed in later months and fans are encouraged to visit SammyHagar.com for updated information.
Congratulations to TNT's "On The Menu" winning Chef Tamara Coleman!
Wow! What an amazing competition with really talented contestants. The judges (Sammy & Jeff Steelman), and hosts (Emeril Lagasse & Ty Pennington), were blown away by the dishes that these chefs created. They all had exceptional skills and put an immense amount of passion into their work.